Image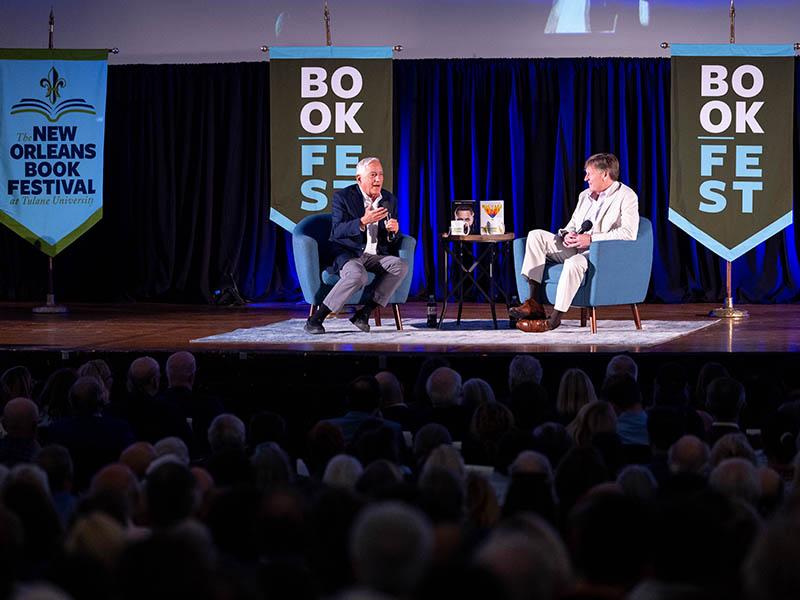 October 23, 2023 | 12:45 PM
New Orleans Book Fest Staff
bookfest@tulane.edu
Best-selling authors and native New Orleanians Walter Isaacson and Michael Lewis delighted an eager audience with behind-the-scenes tales of their recent biographies of two of today's brightest but highly controversial characters, Elon Musk and Sam Bankman-Fried at a conversation on Wednesday, Oct. 18, in McAlister Auditorium.
Cheryl Landrieu, co-chair of the New Orleans Book Festival at Tulane University, introduced the authors to the sold-out crowd. Isaacson, the Leonard Lauder Professor of American History and Values at Tulane and co-chair of the Book Festival, recently published Elon Musk in September and Lewis released Going Infinite: The Rise and Fall of a New Tycoon on Oct. 3.
Isaacson complimented Lewis for his "unbelievable eye for observing both roguish and talented people. And more important, he understands how those two things are related which is a real New Orleans trait." Lewis replied, "We agreed that we would say one nice thing about each other."
Throughout the evening the two authors questioned each other about how they maintained a professional, objective perspective while immersing themselves in the lives of their subjects for two years. Walking the audience through the process, Lewis asked, "I'm curious, how do you find the subject and commit to it?"
Isaacson was looking for another innovator such as Steve Jobs or Jennifer Doudna. "Musk's the only one shooting people into orbit in rocket ships and moving us into the era of electric vehicles. So what could go wrong?"
Toward the end of 2021 things looked good. "And then Musk said, 'I can't leave well enough alone. I was born for a storm.' I said what are you talking about? 'I've been buying Twitter stock.' …. Sometimes when you write about a rogue, they go rogue on you," Isaacson shared. "He gets rockets into space, but he also leaves rubble in the wake."
Lewis saw drama from the start. He had never heard of Sam Bankman-Fried until a friend asked him to vet a financial deal with Bankman-Fried. "The problem is we don't know who he is," Lewis explained. "Nobody knows him…. a month later, Fried tumbles out of an Uber in my office in Berkeley, California. He looks like he's fallen out of a dumpster."
The two go for a hike. "Everything he said on that two-hour walk was true." The gist of the conversation: I just made $22 billion dollars and the world is reshaping itself around my $22 billion dollars. At the end of the walk, Lewis told Bankman-Fried, "I have no idea what's going to happen to you, but I want to watch." Soon after they met, FTX collapsed.
Lewis had unfettered access to Bankman-Fried and it was obvious early on that "he was not endowed with the ordinary compliment of human feelings upon birth. And he was quite open about it…He didn't feel things. He didn't feel love. He didn't feel pleasure. Let's think about that. He didn't feel pride."
Both Lewis and Isaacson understood the complexity of their subjects. "We all know someone who is wired differently," and Lewis jumped in, "neurodiverse." This understanding and appreciation of their subject's strengths and weaknesses allowed them both to write intriguing yet non-judgmental biographies. Lewis recognized, "It made the story, because he was a Martian in every environment he walked into. Martians are great. They see everything in a completely different way." Bankman-Fried compensates by turning life into a math problem. For Musk it's engineering. And underneath it all, both Musk and Bankman-Fried are driven by the desire to do good.
The rapport and humor were never-ending between the two Isidore Newman School graduates, and the conversation naturally drifted to the influence of New Orleans—its strong sense of community, natural gift for storytelling, and the high emotional intelligence fostered here. Lewis talked about how good he feels in New Orleans, and Isaacson replied, "That sense of community is the one thing that you find as you go through life is the most important thing which is why you are going to have to move back home."
Wednesday's event was sponsored by the New Orleans Book Festival at Tulane University as a fundraiser for the festival's literacy efforts across the New Orleans community.
Watch the full conversation: